Mahindra XUV300 becomes Safest Indian Car
Mahindra XUV 300 has been finally declared as the safest Indian Car. Let's get to know what safety features does it offer. Also which car was the previous most Safest Indian Car?
Who has given the rating?
This verdict has been given by Global NCAP. Global NCAP is an independent safety governing body of cars in India.  Global NCAP is not owned by any car manufacturing company.  They have yet not tested all cars available in the Indian car market. Find everything in detail about Mahindra XUV300 as the safest Indian car below. Global NCAP has tested some popular cars as of now. For the full list of vehicles visit here: http://www.globalncap.org/results/.  
Highlights
Mahindra XUV300 safest car, the Indian made car scored a 5-star rating in safety tests conducted by Global NCAP.  This car scored a 5-star rating in adult occupant safety and 4-star in child safety, making it the top safest car.  Tata Nexon too, another Made in India product is just behind the XUV300 with similar results. 
The Mahindra XUV300 uses high-strength steel in its construction which has propelled towards a higher safety rating.  Seven airbags, disc brakes on all the wheels, front and rear parking sensors, ESP, roll-over mitigation and hill start assist. Many of these features are provided right from the base variant and across the range. 
Global NCAP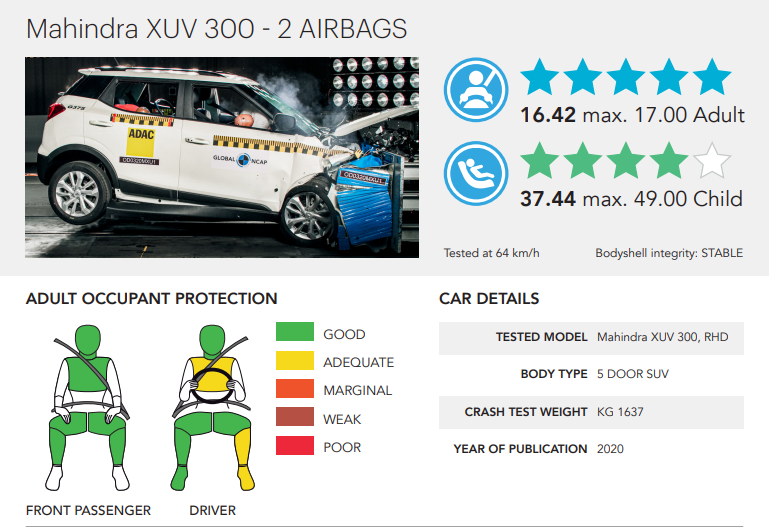 Global NCAP successfully tested 38 India-made passenger vehicles for safety between 2014 and 2020. We have already published an article on top unsafest cars in India based on Global NCAP results. Tata Tiago, Tigor, Altroz and Nexon have also done quite well in the crash tests. Many cars have got a 0-star and 1-star rating in safety too. 
Conclusion

Airbags and ABS have become compulsory now, thanks to the Indian Government. Accidents happen randomly so you should give proper importance to the safety aspect of the car. We at MotorOctane advice you to steer clear of the above-mentioned cars and make a much more aware choice.  Insurance can take care of the car but an investment towards a safe car can act as an investment of your own life.
For more such content stay subscribed to the Motoroctane Youtube, Google NEWS, Facebook and Twitter