Mahindra Thar colours are out!
The Mahindra Thar 2020 was one of the hottest releases in the Indian automotive market for 2020. The Mahindra Thar was unveiled on 15th of August 2020 with price to be launched on 2nd of October 2020. Find out below about Mahindra Thar colours confirmed.
Colour options
Red Rage, Aquamarine and Rocky Beige are colour options carried forward from the previous generation Mahindra Thar.
Mystic Copper, Galaxy Grey and Napolic Black are three new shades launched with the 2020 Mahindra Thar.
The Mahindra Thar 2020 will no longer be available with White and Silver paint options to choose from as the BS4 counterpart.
New Roof options
You cannot remove the hardtop.  You get three types of roof options with the 2020 Mahindra Thar: 1) Fixed Hard Top 2) Flexible Soft Top 3) Fixed Soft Top.  You can only remove the Flexible Soft Top roof for convenience.
Differentiation between LX and AX
For those who are new, LX stands for the Luxury trim while AX stands for proper Off-road trim. With 2 trims available to choose from the user can have the perfect Thar for their personal use. Also, the engine and other features can also be customized. 
Off-Road Capability and numbers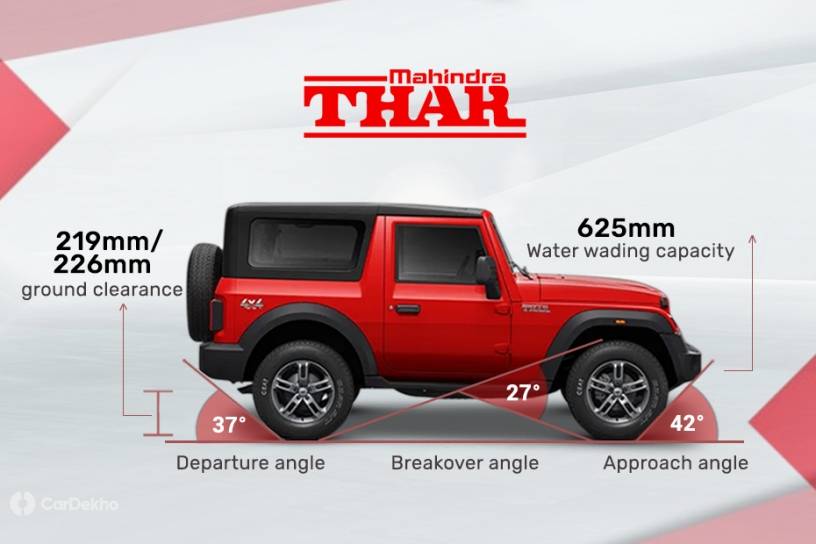 You get features like 42:1 Crawl Ratio, Electromechanical Driveline Disconnect, Mechanical Locking Rear Differential, and Brake locking Differential for pure off-road lovers. 
Engine and Performance
The all-new Thar 2020 comes with a 2.2-litre Stallion Petrol engine and a 2.0-litre Diesel engine.  The petrol engine produces 150hp and 320Nm of torque. The Diesel engine, on the other hand, produces 130hp and 300Nm of torque.
Price and Competition
We expect the prices of the Mahindra Thar to range between Rs.9 lakh to Rs.13 lakh. It will rival against the Force Gurkha, which is soon to get an update and the Maruti Jimny if launched.  Hyundai Creta and Kia Seltos are similarly priced too but are a different segment of cars.
For more such content stay subscribed to the Motoroctane Youtube, Google NEWS, Facebook and Twitter.