Should you really buy the Swift under ₨.1 lakh?
Maruti Suzuki Swift, a car which needs no introduction in the Indian car market. Maruti Suzuki Swift is available for purchase in three-generation in the used car market. Should you consider it under Rs.1 lakh? Find out more if you Should you really buy the Swift under ₨.1 lakh.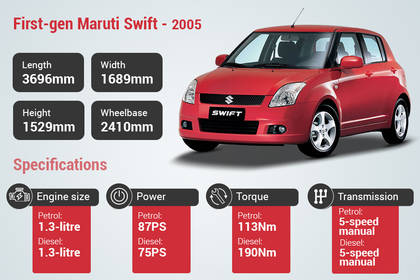 Before we get started with anything I would like you to check our recent article on the signs that you should avoid certain used cars – 5 Signs to Avoid a Used Car. If there are any of those red flags on a car then you should definitely avoid it.
Problem with the budget
The Rs.1 lakh mark may seem like the perfect rounded number to buy a used car but don't get carried away. COIVD has forced people to shift to private transport but a wrong car purchase can take you from Rs.1 lakh to Rs.3 lakh in no time. Little confused? the additional cost will be the result of service, maintenance, parts and many other hidden issues. For a used car in 2020, a little more budget is sensible and an EMI option can help you even further
The 15/10-year rule
Everything has an expiry date and cars are no exception. Generally speaking, Petrol cars have a life of about 15 years while Diesel counterparts have a shorter one. Diesel cars are said to have a life of 10 years. Can you never buy a car older than 15 years?
Absolutely not. But if you are living in a metropolitan or urban city with strict traffic rules, keep in mind to shell out huge fees.  Many states have officially banned older cars from being run in their state. At such a time Maruti Suzuki Swift is the worst choice as every Swift available under Rs.1 lakh is older than 15 years. You should completely avoid the Diesel variants as far as possible. Government is taking the environmental issue seriously and BS6 is a very recent example of it. 
The pre-odometer reading
Any car above 1 lakh kilometre is a serious red flag in terms of the used car market. In most of the cases, the car has been squeezed out of all its potential and is not worth the money. Majority of Maruti Suzuki Swift available under Rs.1 lakh is well above the 1 lakh kilometre mark and Diesel cars above that are a serious no-no.
Some advantages
Maruti Suzuki Swift is a well-known car and has been in the Indian car market for a very long time. Being a Maruti Suzuki product, fuel efficiency is one of its most strong point. Every Swift owner will tell you about the reliability, resale value and comfort of the Swift. We also agree with all the above points.
However, any Swift under Rs.1 lakh does not have very enticing looks and interiors. In majority of the cases the exteriors might be damaged, lightly or heavily and interiors look worn out.  But should you still buy Swift under 1 lakh in the used market?
Hidden Issues 
The car which retails around Rs.5 lakh to Rs.8 lakh is simply not available under Rs.1 lakh without any hitch. Many times buyers get cheated by getting their hands on flood-impacted cars, fire caught cars or cars with a serious mechanical issue. Maruti still does not produce new genuine parts for its 2005 Swift so you may as well forget about its reliability.
Aftermarket is the only solution and highly unstable.  Always check if the car is involved in any criminal case or bank loan before purchasing the car.  Rs.1 lakh in some cases is a large amount to be cheated with. Your hard-earned money should never be gambled on a brand name. 
Conclusion
Should you never buy a Swift? Absolutely not. Should you never buy used Swift? No again. The Answer is to be logical. If you want to purchase a Maruti Suzuki Swift for cheap consider a little higher budget. Try finding cars which are 5-10 years old and Petrol. First-owner cars should be given preference because generally first owners are the most careful of the lot. 
Do your research and simply don't rely on the internet. Sometimes you can get a pristine quality car right from your neighbourhood if you search at a low price. You should always follow general used-car-buying protocols. Ending this article of you can not rise above Rs.1 lakh budget, a Maruti Suzuki Alto or Omni E will be a much better and safer choice from Maruti in the used car market. Tata Nano is also available.
For more such content stay subscribed to the Motoroctane Youtube, Google NEWS, Facebook and Twitter